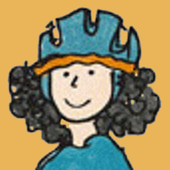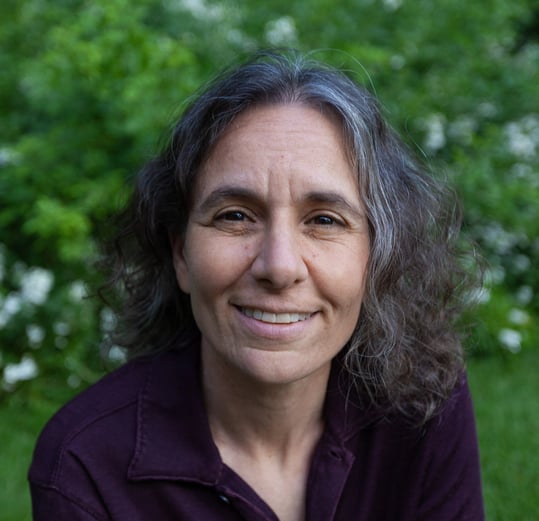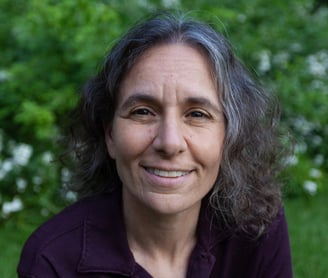 My books have been translated into Spanish, French, German, Polish, Chinese, Korean, and Esperanto.
Sometimes I write under a pen name to be sneaky.
I've won a Cook Prize, Sibert Honor, Orbis Pictus Honor, and a bunch of other honors and awards, but I still can't whistle with a blade of grass or turn a cartwheel.
I write for kids, and actually, I used to be a kid myself.
Official-sounding biography
Mara Rockliff is the author of many lively historical books for children. Among her best-known titles are Mesmerized: How Ben Franklin Solved a Mystery that Baffled All of France, winner of the Cook Prize and an Orbis Pictus Honor; Around America to Win the Vote: Two Suffragists, a Kitten, and 10,000 Miles, distributed to schools and libraries across the country by the Women's Suffrage Centennial Commission; and Sweet Justice: Georgia Gilmore and the Montgomery Bus Boycott, which in 2023 received a Sibert Honor from the American Library Association. Under the pen name Lewis B. Montgomery, she also wrote all twelve books in the popular Milo & Jazz Mysteries chapter book series.
She lives in western Massachusetts, a great place for outdoor fun, so chances are you won't find her at home. But you can visit her online at mararockliff.com.
Did you always want to be a writer?
When I was little I wanted to be a clown. Later I thought about being an investigative reporter like my hero, Nellie Bly. But I was always a big reader and I always wrote. In high school I was the editor of both the newspaper and the literary magazine. It was a very small school, so everybody had a lot of jobs! I was the captain of the chess team, too.
Why do you write for kids?
It's funny, everybody asks children's authors that question, but nobody ever asks other authors why they write for grownups. I guess I've never liked to make things long and boring when they could be interesting and short. (I myself am interesting and short.) And I love children's books.
What are your favorite children's books?
When I was growing up, one book I read over and over was The Swiss Family Robinson. I loved books about the old days and books about magic: the Betsy-Tacy books, the All-of-a-Kind Family books, the Chronicles of Narnia, the Great Brain series, and anything by Noel Streatfeild, Margaret J. Anderson, Joan Aiken, Edward Eager, or E. Nesbit. Also A Wrinkle in Time and its sequels (back then, there were only two!) and From the Mixed-Up Files of Mrs. Basil E. Frankweiler. I also would have loved Harry Potter, the Penderwicks, Clementine, and everything by Eva Ibbotson, but none of those books had been written yet.
My favorite picture books include Tacky the Penguin, Clotilda, and Miss Rumphius.
Frequently asked questions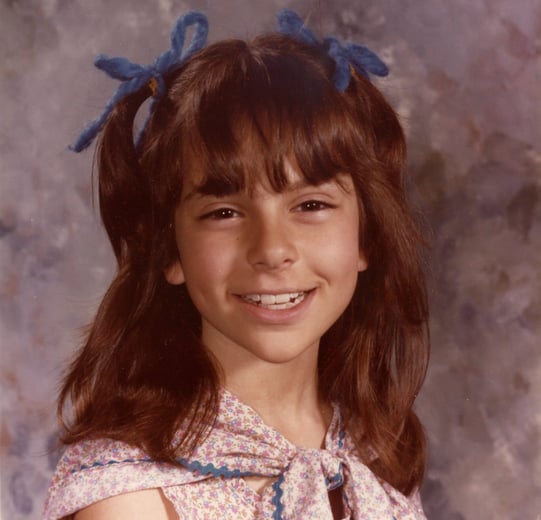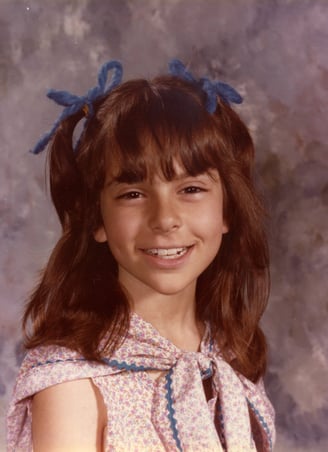 Where do you get your ideas?
Where do you get YOUR ideas? Me too. (But if you want to know where I got the idea for a particular book, you might try checking out these interviews.)
What inspires you to write?
Writing is my job, so I don't wait for inspiration. (Imagine if teachers or firefighters only did their jobs when they felt "inspired"!) I need to work every day, whether I feel like it or not. I'm not always actually writing, though. Sometimes I'm doing other work, like researching an interesting topic I might want to write about.
What is your favorite thing about being a writer?
I get to work at home in my pajamas! Sometimes I go all day without brushing my hair.
How long does it take to write a book?
It depends on the book. I wrote the first draft of All at Once Upon a Time in just a few hours. Other books can take much longer. Researching my historical books takes months, sometimes even a year. Luckily, I really enjoy doing research, so it doesn't feel like a long time.
How many books have you written?
I'm not sure! Try counting the books in this photo. (But since it was taken, I've written more books.)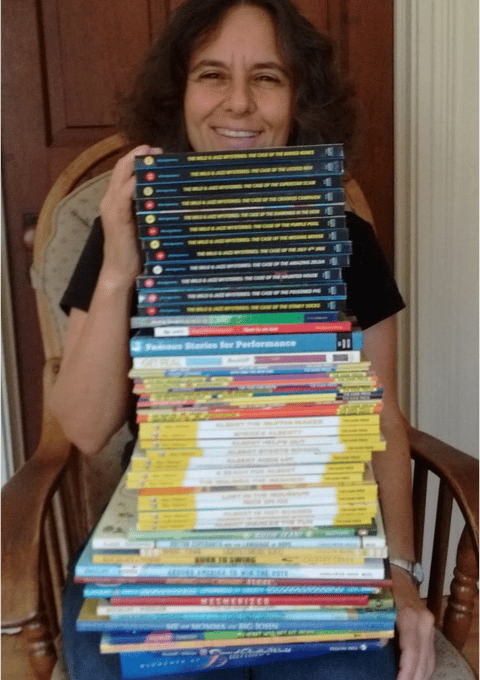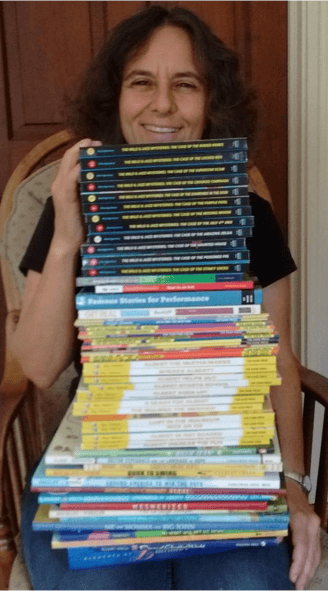 What awards have your books won?
Have you ever noticed that it seems like every author is an "award-winning " author? There are lots of book awards, so book lovers have lots of ways to find books other people think are good. Books I've written have received a Cook Prize, a Sibert Honor, an Orbis Pictus Honor, a Golden Kite Award, a Storytellers' Choice Award, a Parents' Choice Gold Award, a Charlotte Zolotow Honor, and an Ezra Jack Keats Honor, among other awards and honors.
My books have been given starred reviews in Booklist, Publishers Weekly, Kirkus, Shelf Awareness, and School Library Journal, and have been praised in The New York Times. They've been chosen as Junior Library Guild Selections, Indie Next Picks, ALA Best New Books for the Classroom, and Notable Social Studies Trade Books for Young People, and have been featured by Scholastic Book Club and Scholastic Book Fairs and included in the New York Public Library's "100 Titles for Reading and Sharing" and the Bank Street College of Education Best Children's Books of the Year.
They have also been selected for many state reading lists and won state awards, including the Garden State Book Award and the Land of Enchantment Book Award.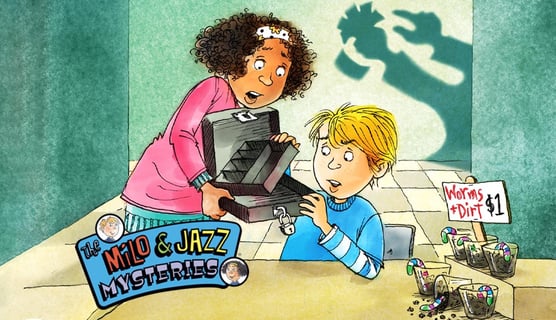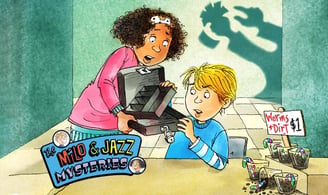 How did you choose the pen name Lewis B. Montgomery?
I snitched it from three of my favorite writers: C. S. Lewis, E. B. White, and L. M. Montgomery.
Why did you use a pen name for The Milo & Jazz Mysteries?
My editors were a BIG help writing these books. We did a lot of brainstorming together, and they answered many, many questions. So Lewis B. Montgomery isn't just me; it's also three excellent editors named Juliana, Judy, and Joanne.
(This wasn't the first time that I used a pen name. I used to write educational books as "work for hire." Since those books weren't my own idea, I used pen names for those too.)
Are Milo and Jazz based on real people?
No, I made them up. (Although I did name Jazz after a girl who used to live across the street from me.) But the more I wrote about them, the more I got to know them and the more they felt to me like real people. Sometimes my editors would make a suggestion, and I would say, "But Jazz would never do that!"
Are you going to write any more books about Milo and Jazz?
I think I'm done! If you have read all twelve and you have an idea for another story about the two sleuths, go ahead and write it. And feel free to send it to me. I would love to read it, and I promise I will not steal your ideas.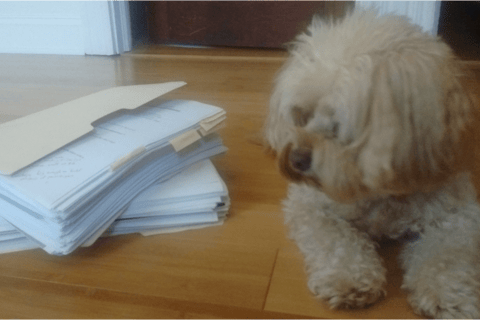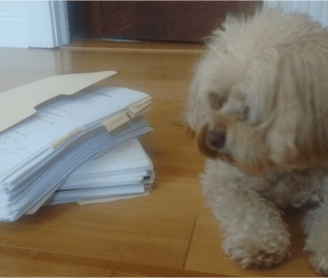 "All that research for just one book?"
Do you have any pets?
Yes, I have a little dog named Daisy. She's half spaniel and half poodle, so we call her a spoodle.
My assignment asks a question you don't answer here. Can I email you?
I'm always happy to hear from readers, and I do write back, but I can't do your homework for you. Sorry! You might find what you need in these interviews.
Can you come to my school?
I love meeting kids who have read my books and want to talk with me about research, writing, and other stuff. Over the years, I've visited a zillion schools in the United States and even as far away as Jamaica, Democratic Republic of Congo, and Qatar. I can't do author visits very often anymore, but if there is a special reason I should come, your school can contact me.
Infrequently asked questions
What is the most fun you've ever had researching a book?
Being a history detective is my number one favorite part of writing books. There's nothing I like better than searching for clues, solving puzzles, and digging up secrets...unless it's doing all that AND getting to drive a 1915 Baby Saxon, just like the one Nell and Alice drove in Around America to Win the Vote!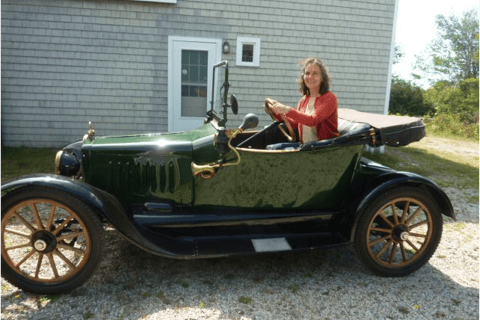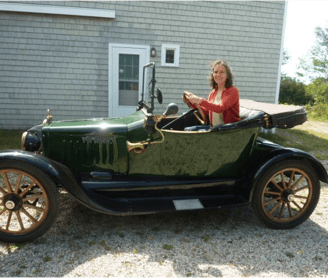 Do you have any hobbies?
I speak an international language called Esperanto, which is a fun way to travel and make friends from all over the world. I also lead a conversation group for English language learners at my local library, which is another fun way to make friends from all over the world. Of course, I looooove to read. And I love hiking, kayaking, and (you may have guessed) riding my bike!
What's your favorite ice cream flavor?
Blueberry. Or malted vanilla, if it's Barts. Or chocolate fudge brownie. Or anything with peanut butter. Or ginger or mango, especially after Thai food. Or coffee, but I really shouldn't; it will keep me up at night.
Have you ever eaten a bug?
Not on purpose, except for the time I ate crunchy fried grasshoppers in Mexico. All the food there was so good, I thought that I might like that, too.
Interviews, guest posts, etc.