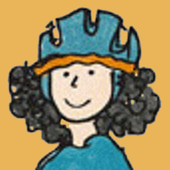 2023 Sibert Honor Book
Georgia Gilmore was cooking when she heard the news.
Mrs. Rosa Parks had been arrested—pulled off a city bus and thrown in jail. And all because she wouldn't give up her seat to a white man. To protest, the radio was urging folks to stay off city buses for one day: December 5, 1955.
A boycott!
Something was cooking in Montgomery, Alabama...and not just Georgia's famous sweet potato pie.
"An elegant ode to a delightfully different kind of designer who wanted fine fashion accessible to all, not just a privileged few." —Booklist starred review
Lena came to America with nothing but a dream—and an exceptional ability to drape and snip and stitch. She never used a pattern or a tape measure, but every dress she sewed turned out to be a perfect fit.
Then, one day, a customer presented her with a new challenge. Could she design a stylish, comfortable gown for a body shape that did not meet the current standards of fashion?
Lena took the challenge. Under the company name Lane Bryant, she became famous for flattering and modish clothing designed for all different shapes and sizes. The world of fashion would never be the same.
Air & Space Best Children's Books
Beatrice Shilling wasn't quite like other children. She could make anything. She could fix anything. And when she took a thing apart, she put it back together better than before.
When Beatrice left home to study engineering, she knew that as a girl she wouldn't be quite like the other engineers—and she wasn't. She was better. Still, it took hard work and perseverance to persuade the Royal Aircraft Establishment to give her a chance. But when World War II broke out and British fighter pilots took to the skies in a desperate struggle for survival against Hitler's bombers, it was clearly time for new ideas. Could Beatrice solve an engine puzzle and help Britain win the war?
Smithsonian Magazine 10 Best Children's Books of 2021
In 1956, Frieda Caplan started working at the Seventh Street Produce Market in Los Angeles. Instead of competing with the men in the business with their apples, potatoes, and tomatoes, Frieda thought, why not try something new? Starting with mushrooms, Frieda began introducing fresh and unusual foods to her customers—snap peas, seedless watermelon, mangos, and more!
This groundbreaking woman brought a whole world of delicious foods to the United States, forever changing the way we eat. Frieda Kaplan was always willing to try something new—are you?
Amazon Best Nonfiction Children's Books of 2020
Thomas Jefferson was wild about numbers. Whether counting peas or measuring a mule, he never missed a chance to jot down a few facts and figures. He loved sharing what he learned, and reading to learn even more.
But when a famous Frenchman wrote a book about America, Jefferson was shocked. The author insisted that America was a dismal place where birds couldn't sing, dogs didn't bark, and every living thing was smaller than in Europe. How could he be so wrong?
Jefferson resolved to set the record straight—with numbers. After all, his country was counting on him! But where could he find facts and figures BIG enough to prove his point?

2020 Bank Street College of Education Best Children's Books of the Year
Anything Billie Jean did, she did it ALL THE WAY.
When she ran, she ran fast. When she played, she played hard. As a top women's tennis player, Billie Jean fought for fairness in women's sports, and when she faced off against Bobby Riggs in the Battle of the Sexes, the most famous tennis match in history, she showed the world that men and women—and boys and girls—are equal on and off the court.
The true story of a little girl who loved sports and grew up to be one of the greatest and best-known tennis players of all time.

New York Public Library Best Books for Kids
Lil Hardin was born to swing!
Ever since she was a young girl, Lil Hardin played music with a beat. She jammed at home, at church, and at her first job in a music store. At a time when women's only place in jazz was at a microphone, Lil earned a spot playing piano in Chicago's hottest band. She went on to fame as a bandleader and composer and "swung" with many of the greatest early jazz musicians, including husband Louis Armstrong. "Hot Miss Lil" was a jazz pioneer and legend whose story and music need to be heard!

A PJ Library Selection
Meet the boy who made up his own language—and brought hope to millions!
Life was harsh in the town of Bialystok, and Leyzer Zamenhof thought he knew why. Russian, Polish, German, Yiddish—with every group speaking a different language, how could people understand each other? Without understanding, how could there be peace?
Zamenhof had an idea: a "universal" second language everyone could speak. But a language that would be easy to learn was not so easy to invent, especially when even his own father stood between him and his dream. Yet when at last in 1887 "Doctor Esperanto" sent his words into the world, a boy's idea became a community that spread across the globe.

Chosen by the Women's Suffrage Centennial Commission to distribute to schools and libraries across the country
On April 6, 1916, a little yellow car set out from New York City. It carried tools, spare parts, a teeny-tiny typewriter, an itsy-bitsy sewing machine, one stout leather trunk bursting with useful things, two smiling women, and a wee black kitten with a yellow ribbon tied around its neck.

Nell Richardson and Alice Burke were off to tour the country from one end to the other with rallying shouts of "Votes for Women!" In their tiny yellow car, the two friends forded icy streams, braved a howling blizzard, trekked across unmapped desert sands, and even joined a circus parade to spread the word for women's right to vote. Nell and Alice would stop at nothing to advance their cause!

"Rockliff and Bruno (Mesmerized) reunite for another spectacular book." —Publishers Weekly starred review
Some girls are perfectly happy never doing anything out of the ordinary. But not Addie—she longed for thrills and excitement! In an era when the stage was no place for proper young ladies, Addie dared to be a ballerina—and then gave it up for even more daring bicycle tricks!

When she married world-famous magician Herrmann the Great, she knew she just had to be part of his show. Addie wanted to SHOCK and DAZZLE! She would do anything to draw crowds, even letting herself be shot out of a cannon. When Herrmann the Great died, Adelaide Herrmann felt she couldn't disappoint her loyal fans—the show must go on. But what could she do? She would perform the show all by herself!

Winner of the Garden State Book Award and Land of Enchantment Book Award
Christopher Ludwick is a German-born American patriot with a big heart and a talent for baking the best gingerbread in Philadelphia. No one goes hungry if he can help it—"Not in my America!" he says. When cries of "Revolution!" begin, Christopher marches off to feed General Washington and his hungry troops. But Washington never expects his favorite baker to sneak off on a risky secret mission across enemy lines...

Gingerbread for Liberty! is the story of an unsung hero of the Revolutionary War who changed the course of history—one delicious mouthful at a time.


Winner of the Cook Prize and an Orbis Pictus Honor Book
The day Ben Franklin first set foot in Paris, France, he found the city all abuzz. Everyone was talking about something new, remarkable, thrilling, and strange. Something called...SCIENCE!

Naturally, Paris goes wild for the famous American inventor. But soon Benjamin Franklin is upstaged by a mysterious and enigmatic figure: Dr. Mesmer. Wearing a fancy coat of purple silk and carrying an iron wand, Mesmer convinces the people of Paris that he controls a magic force that can make water taste like a hundred different things, cure illness, control thoughts! All for a price...but Ben Franklin is not convinced. Will his practical approach of observing, hypothesizing, and testing get to the bottom of the Mesmer mystery?

Anne Izard Storytellers' Choice Award
No one in the town of Bonnyripple ever kept a grudge.

No one, that is, except old Cornelius, the Grudge Keeper.

Ruffled feathers, petty snits, minor tiffs and major huffs, insults, umbrage, squabbles, dust-ups, and imbroglios—the Grudge Keeper received them all, large and small, tucking each one carefully away in his ramshackle cottage.

But when a storm flings the people together and their grudges to the wind, will the Grudge Keeper be out of a job?
Association of Jewish Libraries "Love Your Neighbor" Selection
Every Saturday in the apartment building, a delicious smell floated from 5-A. One Saturday, however, something wasn't right.
When Goldie Simcha doesn't joyfully throw open her door to welcome everyone into her apartment for a bowl of her famous cholent, her neighbors wonder what could be wrong.
Goldie was feeling too sick on Friday to cook, and everyone knows you can't make cholent in a hurry, right away, chik chak! But it just isn't Shabbat without the special meal. What can her neighbors do to save the day?
Winner of the Golden Kite Award and a Charlotte Zolotow Honor Book
Momma comes home from work, tired and sore from a long day at her job. She's a stonecutter now, helping to build "Big John"—the Cathedral of St. John the Divine in New York City. She works for weeks on just one stone, and her son John wonders how she does it. When at last Momma's stone is finished, John can't wait to see it. But when he arrives at the cathedral, he can't believe it is just one plain stone—where is Momma's name? How will all the people know this is Momma's art?
"Every page is infused with golden light, quiet pride, and soaring hope." —Publishers Weekly starred review
Ezra Jack Keats Honor Book
When Kedi hears about America's Great Depression from her teacher, her heart will not sit down. Men and women are unable to find work. Children are going hungry. In her teacher's village of New York City, people are starving because they do not have money to buy food. But can one small girl in Africa's Cameroon make a difference all the way across the great salt river in America?
(ebook only, out of print)
Indie Next Pick
Rushmore Boulevard is the busiest street in town—until Agatha May Walker decides to do something about it. Armed with a batch of sweet and spicy gingersnaps, a wingback chair, a card table, and a Parcheesi set, Agatha and her best friend, Eulalie Scruggs, take to the street to reclaim it from the noisy cars, motorcycles, and giant trucks that rumble by all day long.
Can these lifelong friends convince their neighbors to stop and smell the honeysuckle, listen to the mariachi band, and best of all, sample the sweet and spicy gingersnaps?
(ebook only, out of print)